Gallery of Button Bouquets
Glass Vase Button Bouquets
Following is the Glass Vase Button Bouquet collection. All are one-of-a-kind pieces handmade in Colorado. Each contains vintage handpicked buttons. Ceramic vases can be found on the next gallery page.
To Order: Online with Credit Card or by calling (719) 439-9436 or buttons96@msn.com
BBSM Small Glass Vase Bouquet
(Please note: Vase style, not size, may vary slightly from picture.)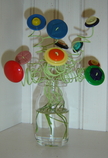 Retailers: Call for wholesale pricelist and availablity.
BBMD Medium Glass Vase Bouquet
(Please note: Vase style, not size, may vary slightly from picture.)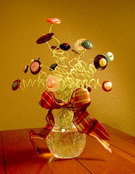 $26
BBLG Large Glass Vase Bouquet
(Please note: Vase style, not size, may vary slightly from picture.)